Pet's Wheel of Fortune
Regular price
Sale price
$44.00 USD
Unit price
per
Sale
Sold out
Pet's Wheel of Fortune poses a new challenge for your dog. Unlike flat board games, in which the dog/cat e.g. has to move pieces with his nose or paw to get a reward, the Pet's Fortune Wheel requires your pet to spin the wheel vertically.
The cylinder has four segments separated by thin wooden walls, each with holes. Three segments have holes with a diameter of about 10 mm (they will not let the recommended treats fall out) and in one segment holes have a diameter of about 12 mm - they are big enough to let the treats recommended by My Intelligent Pets® get through. Once the wheel turns, treats fall out. There is an opening on the side of the cylinder which is used to refill the wheel with treats. The size of the treats should be carefully selected so that they can easily fall out through the bigger holes.
Here's how it works:
Step 1. Open the lock located on the side of the cylinder. Fill the empty space with a handful of treats and close the lid.
Step 2. Encourage your dog by spinning the wheel - with his nose or his paw - to play the game, so that he can get the reward.
Step 3. Praise your dog each time he gets a treat out of the wheel.
Hints:
You can increase the difficulty level of the game by sealing some of the holes with duct tape.
Play with your dog and encourage him to solve the task. Stay calm, be patient, and continue to explain the game to your dog until he understands it.
Do not let your dog play unsupervised and intervene when he starts to bite the game.
Let your dog play with the game for no longer than 10 minutes, otherwise, he might lose his interest in the game. Distract him with something else and put the game away for a little while.
A few day break from Pet's Wheel of Fortune and playing with other games from the My Intelligent Dogs® games collection will let your dog enjoy the Pet's Wheel of Fortune game anew each time you give it to him.
Please use only dry treats. The diameter of treats should be below 12 mm.
Share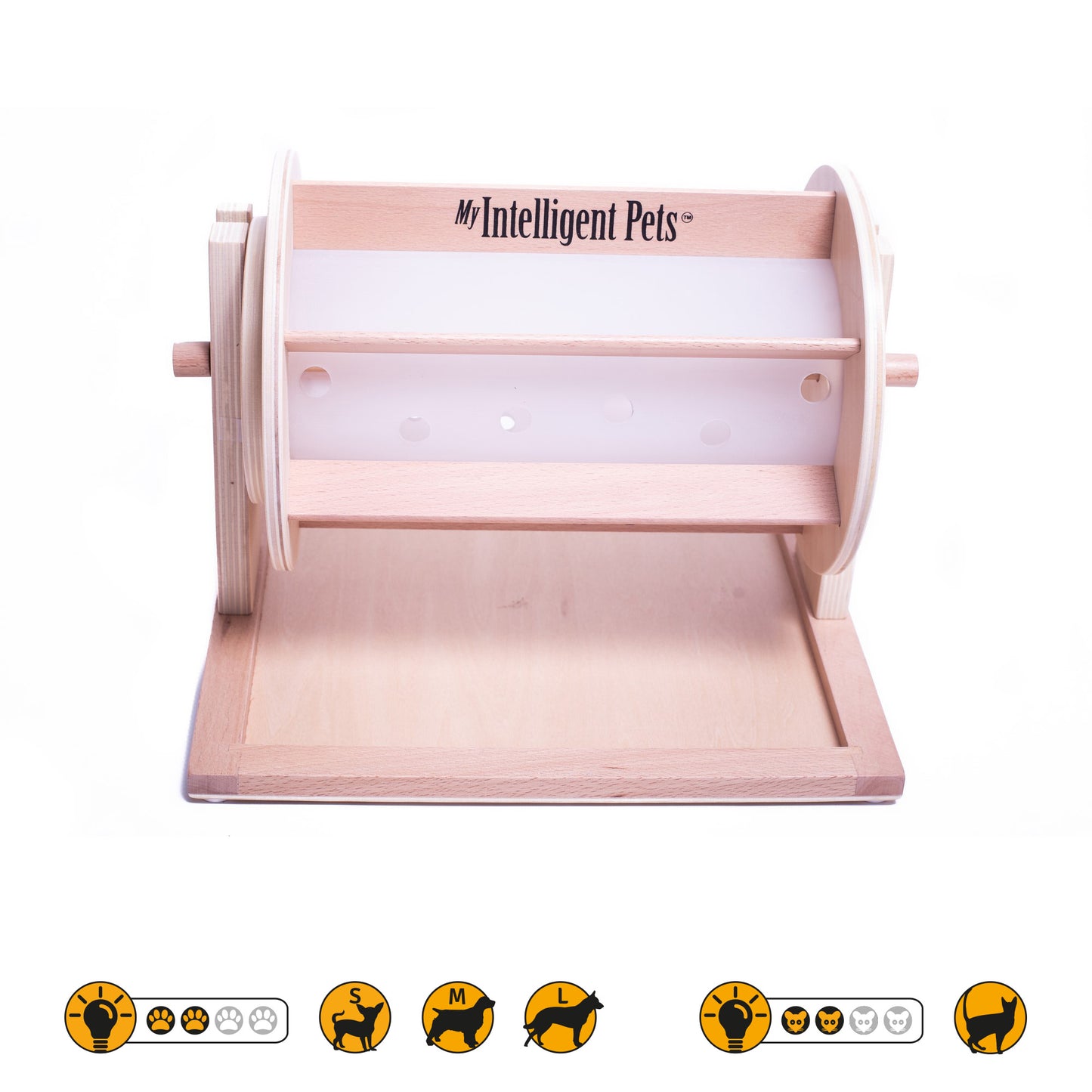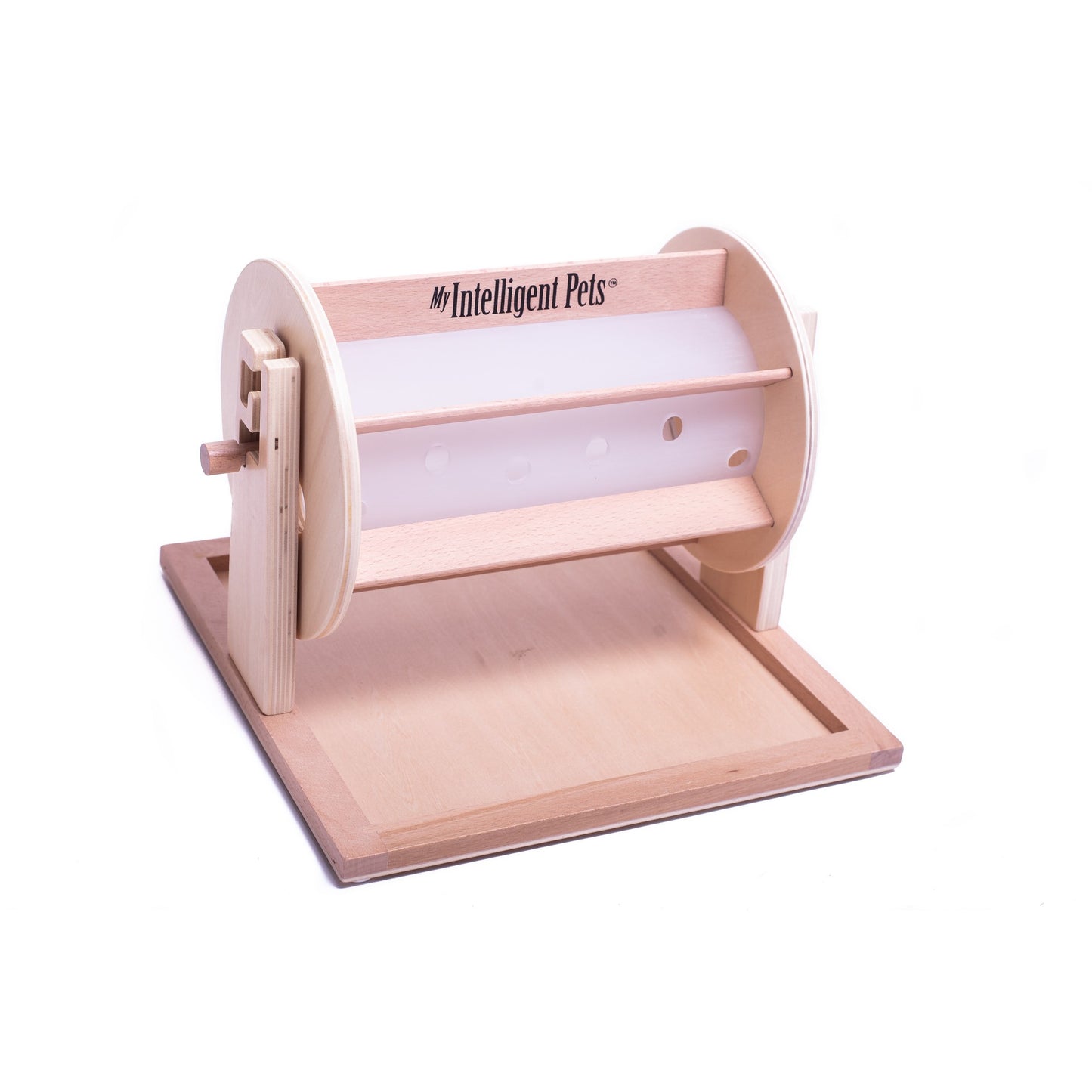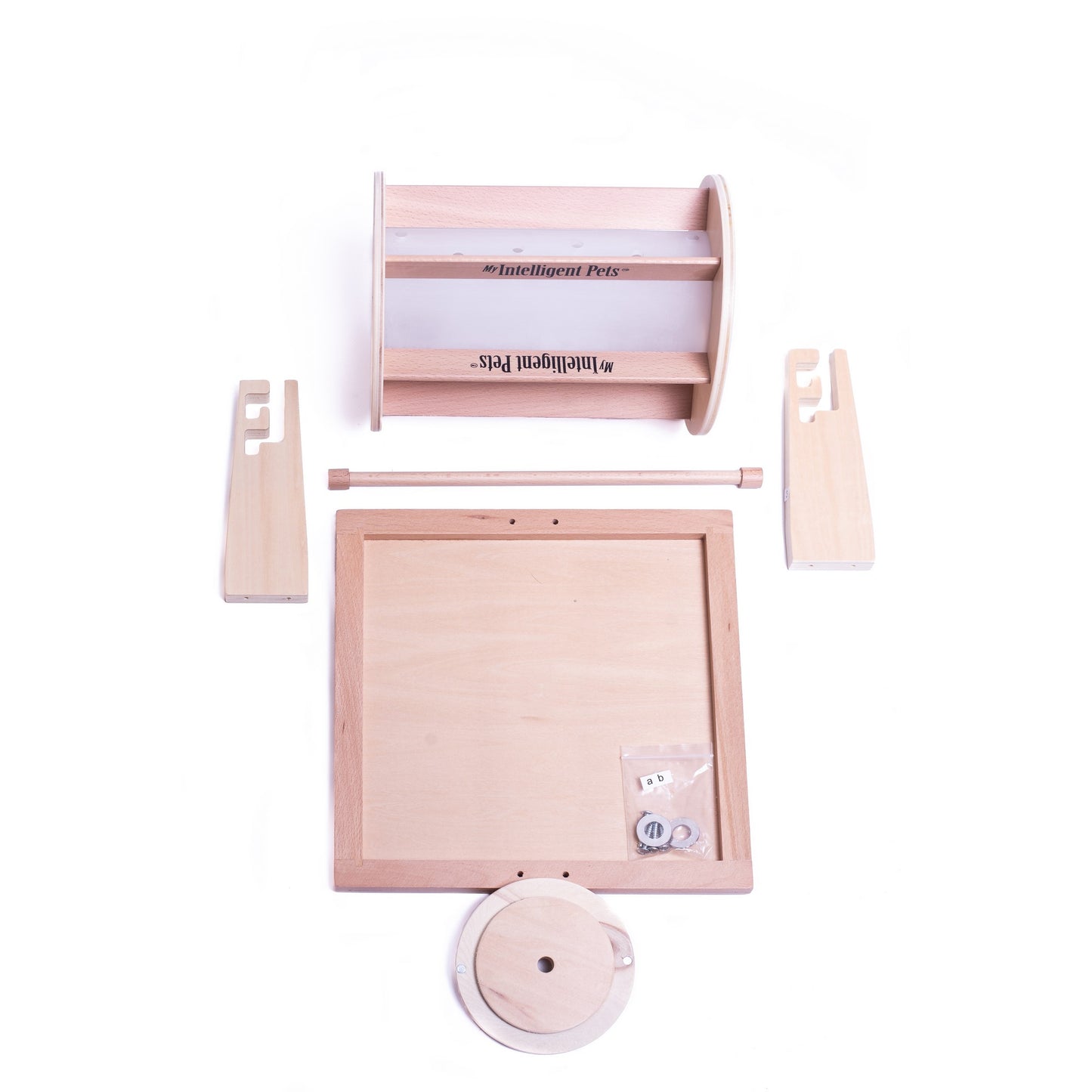 Why would your pet love our games?
"Help with dog's health balance and mental stimulation."

"Boosts pet's natural instinct of curiosity, drive to play, and sense of smell!"

"Made of high quality wood covered with water-based varnish that is safe for humans and animals"

"Trains your pet's concentration and dexterity"
My Intelligent Pets received a 2022 Pet Innovation Award for "Pet's Piano!":
"Very solid product - The Pet's Piano by MyIntelligentPets.com is a unique and entertaining toy that will keep your pet entertained for hours. It's entertaining for our pet and for us :D", Marcin, USA
"Must buy! - The Pet's Piano is a great way to bond with your pet and keep them happy and healthy. I'm impressed with the Pet's Piano by MyIntelligentPets.com, it's well-made and my pet loves it.", Anna L, USA
"What a fun! - My pet absolutely loves playing with the Pet's Piano - it's durable and easy to use. The variety of keys and sounds on the Pet's Piano make it a great tool for stimulating your pet's mind.", Cami Bolesky, Canada
My Intelligent Pets Piano presents your dog with a unique challenge. Unlike flat board puzzles where the dog moves tiles with its nose or paw to get the reward, with this game the dog must work vertically and horizontally to get the treats. 
Check it now!